Here is the heart touching collection of Merry Christmas Wishes and quotes for you all. here you will find the best of best Merry Christmas Quotes, Wishes, Messages, Greetings specially selected for your  loving kids, friends and family, your beloved girlfriend and boyfriend.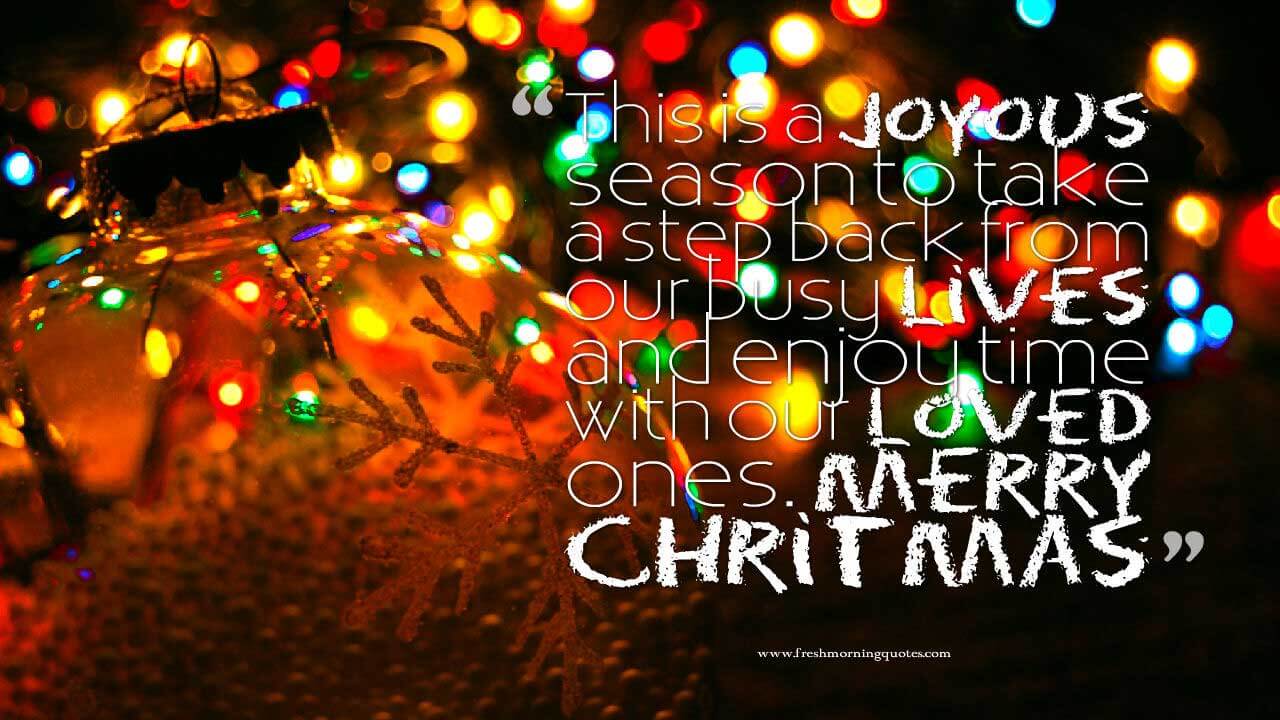 Christmas is a delightful time for everyone, whether you are Christian or not it is always a time to cherish with your family and friends, especially Kids or children eagerly awaiting For Christmas gifts on this beautiful occasion from your loved ones.
Heart Touching Merry Christmas Wishes
May Peace be your gift at Christmas and your blessing all year through! – Author Unknown
---
As you celebrate the miracle of this special season, may your heart be filled with joy and peace. May these holiday blessings linger in your home and stay with you throughout the year.
---
Christmas waves a magic wand over this world, and behold, everything is softer and more beautiful. – Norman Vincent Peale
---
Christmas is a time when you get homesick — even when you're home. ~Carol Nelson
---
This is a joyous season to take a step back from our busy lives and enjoy time with our loved ones. Best wishes to you and yours.
---
Christmas is a season of great joy: a time for remembering the past and hoping for the future. May the glorious message of peace and love fill you with joy during this wonderful season.
---
The excellence of a gift lies in its appropriateness rather than in its value.
---
What can be better than opening presents, eating food and singing Christmas music? Doing all those things with family like you.
---
Take time during the rush of the holidays to enjoy the things in life that really matter. Take in the serene moments spent with friends and loved ones, and may the wonder of Christmas surround you throughout the holiday season.
---
During this time of faith and family, may the true meaning of Christmas fill you with joy. Wishing you a Merry Christmas and a blessed New Year.
---
Wishing all my family members peace and love this holiday season. May you feel the joy in your home that you bring to me.
---
The best present one can hope for this year is to spend time together. I can't wait to celebrate the holidays with you.
---
We hope all of your dreams and wishes come true this holiday season and that you see the same results throughout the coming new year
---
Enjoy the magic this holiday season by listening to music and celebrating the occasion with the people that you care for most.
---
Christmas is the time to give gifts to your family and let them know how much you care about them, so that's what I'm doing.
---
Christmas is a necessity. There has to be at least one day of the year to remind us that we're here for something else besides ourselves. – Eric Sevareid
---
Christmas is a time when kids tell Santa what they want and adults pay for it. Deficits are when adults tell the government what they want and their kids pay for it. – Richard Lamm
---
One of the most glorious messes in the world is the mess created in the living room on Christmas day. Don't clean it up too quickly. ~Andy Rooney
---
Christmas is for forgiveness, love, and cherishing those we are meant to cherish. Best friend: this year know that my caring for you is unconditional. Merry Christmas.
---
He who has not Christmas in his heart will never find it under a tree. ~Roy L. Smith
---
The warmth and love surrounding Christmas is a joy to be savored with family and friends. It is a time to give and share with one another. Here's to wishing you the best this season has to offer.
---
A friend like you is what makes Christmas special to me. Nothing makes me happier than sharing this season with you and I can't wait for Christmas to get here.
---
Christmas brings family and friends together; it helps us appreciate the love in our lives we can often take for granted. May the true meaning of the holiday season fill your heart and home with many blessings.
---
Merry Christmas to my best friend, the person who puts up with all my faults and loves me anyway. Oh and happy new year too.
---
Don't worry about the fact that Christmas is almost here; I'm still counting my blessings, like you, from last year. Merry Christmas.
---
May you feel all the love and joy I have for you throughout this holiday season and all year round. Having you as my friend brings me great joy.
---
Christmas waves a magic wand over this world, and behold, everything is softer and more beautiful. ~Norman Vincent Peale
---
I'm wishing you blessings and joy this Christmas. I am so happy to call you a member of my family and I cherish spending time with you.
---
Where could I find a best friend like you? Not at the North Pole, that's for sure. This year know that the best gift in my life are best friends like you. Merry Christmas.
---
Christmas is forever, not for just one day, for loving, sharing, giving, are not to put away ike bells and lights and tinsel, in some box upon a shelf. The good you do for others is good you do yourself. – Norman Wesley Brooks
---
The best of all gifts around any Christmas tree: the presence of a happy family all wrapped up in each other. ~Burton Hillis
---
There is no greater gift at Christmas than to have everything you want before you open the gifts. – Unknown
---
May God's blessing shine down upon you and your family this holiday season. Sending love from our family to yours.
---
Don't spend the holidays alone. Find a friend, family or other loved ones and enjoy their time and fellowship this season.
---
This time of year brings festivities and family fun. It is a time for reminiscing and looking forward. Wishing you wonderful memories during this joyous season.
---
During this Christmas season, may you enjoy the message of hope, love, and peace on Earth. May all of these holiday blessings be yours to keep. Here's to wishing you a Merry Christmas.
---
Christmas is the gentlest, loveliest festival of the revolving year — and yet, for all that, when it speaks, its voice has strong authority. ~W.J. Cameron
We hope you have enjoyed our heart touching merry Christmas wishes, quotes and messages collection here. wish you all a great prosperous Christmas this year and also a happy new year.
You may also love : 100 Merry Christmas Wishes Quotes and Messages