The heart touching deep love quotes for her and him is the best compilation of best meaningful true love quotes and deep love quotes for your beloved ones. in our life, love is the only thing that keeps us inspired and motivated to live life in the most beautiful way. love makes our heart beat fast, desire to see partner every moment you miss them, for those beautiful love birds, whom don't want make your partner missing you. enjoy these beautiful deep love quotes for her and him.
Deep Love Quotes for Her
The first time we met, my heart told me that I should never let go of the girl in front of me.
---
Just one smile for you and I feel like I have reached cloud nine and I plan to stay there.
---
When I met you, I knew I would want to keep seeing your face every day for the rest of forever.
---
I love you not only for what you are but for what I am when I am with you.
---
Sometimes, look in the mirror and see your real beauty so you would understand how I feel.
---
---
My bounty is as boundless as the sea,
My love as deep;
The more I give to thee
The more I have,
For both are infinite. – Romeo and Juliet
---
There isn't one person in the world that I want more than I want you.
---
You are probably one of the best persons in this world and that is why I love you so much.
---
Believing that you are mine forever is what makes me get up in the mornings.
---
Loving is a part of life, it is something we were meant to do. –  Victor Shaw
---
---
Behind my smile is everything you'll never understand.
---
You want to know how much I really love you so? Put your hand above my chest and feel it.
---
My love for you is boundless, it heeds no reasons, my love for you is endless, it keeps going on.
---
our smile is one of the things in this vast universe that can make me smile instantly.
---
Touch my heart and you will feel, listen to my heart and you will hear, look into my heart and you will see, you will always be a special part of me.
---
I have to tell you how deep my love runs for you, it is like the stars that glows every night.
---
Truly, you are the most beautiful person I have ever since in this planet we live in.
---
I smile not for anything else but because there is so much of love and goodness in my life. I have fallen in love with the person I need and love the most. You are the best person I have ever met. – Lawn Treble
---
I knew that I had to be with you the first glance you did on my direction that is when I fell.
---
Your kiss tells me to wait. To never let go, to hold onto us and never lose hope. I feel it in my soul and know it in my heart. You're my true love since the beginning of time, it's been written in the stars.
---
I wonder how miserable I could have been right now if I had never ever met you in my life.
Deep Love Quotes for Him
Being deeply in love with someone who loves you back with the same intensity is a wonderful blessing. I am blessed to have you by my side just like this. Thank you.
---
I love you with all my heart and all my soul. Every single day when I learn more about you, I love you even more. I'm almost afraid that my heart will burst just from loving you!
---
You are my warmth in the cold nights and my sunshine when it rains all day. You are all I need, and I know that I will be fine as long as I have you by my side.
---
I know that I am way too deeply in love with you when I glance at your smile and realize that I don't want to live a single day without seeing it.
---
You were my first my last.There shall never be another you. You are a lifetime you are my life.
---
---
The best love is the kind that awakens the soul; that makes us reach for more, that plants the fire in our hearts and brings peace to our minds. That's what I hope to give you forever.
---
You may be just another passerby for everyone else in the world, but to me, you are my entire world. My love for you runs deep, my dearest.
---
With you by my side for so long, I can no longer picture life without you. You are the one for me and I hope that you will never leave!
---
The deepest love you can get from someone is when they give you endless love, patience and support, all while encouraging you to grow.
---
Love is of all passions the strongest, for it attacks simultaneously the head, the heart and the senses.
---
---
Touch my heart and you will feel, listen to my heart and you will hear, look into my heart and you will see, you will always be a special part of me.
---
To the world, you may be one person, but to one person you are the world. – Bill Wilson
---
I love you not because of who you are, but because of who I am when I am with you.
---
No matter what I say and what I do, there is not a single moment when I don't think of you. I really miss you.
---
Love deeply and passionately. You might get hurt, but it's the only way to love life completely.
---
The best and most beautiful things in this world cannot be seen or even heard but must be felt with the heart. – Helen Keller
---
You never know how deep love grows till you lose it. And you never, never, never realize it's true for you until it's gone.
---
At first I was afraid to meet you, then I was afraid to kiss you, then I was afraid to love you, now I'm afraid to lose you.
---
I may not get to see you as often as I like. I may not get to hold you in my arms all through the night. But deep in my heart I truly know, you're the one that I love, and I can't let you go.
---
If you can see yourself the way I see you, I bet you would also fall in love with yourself.
Deep Quotes about Love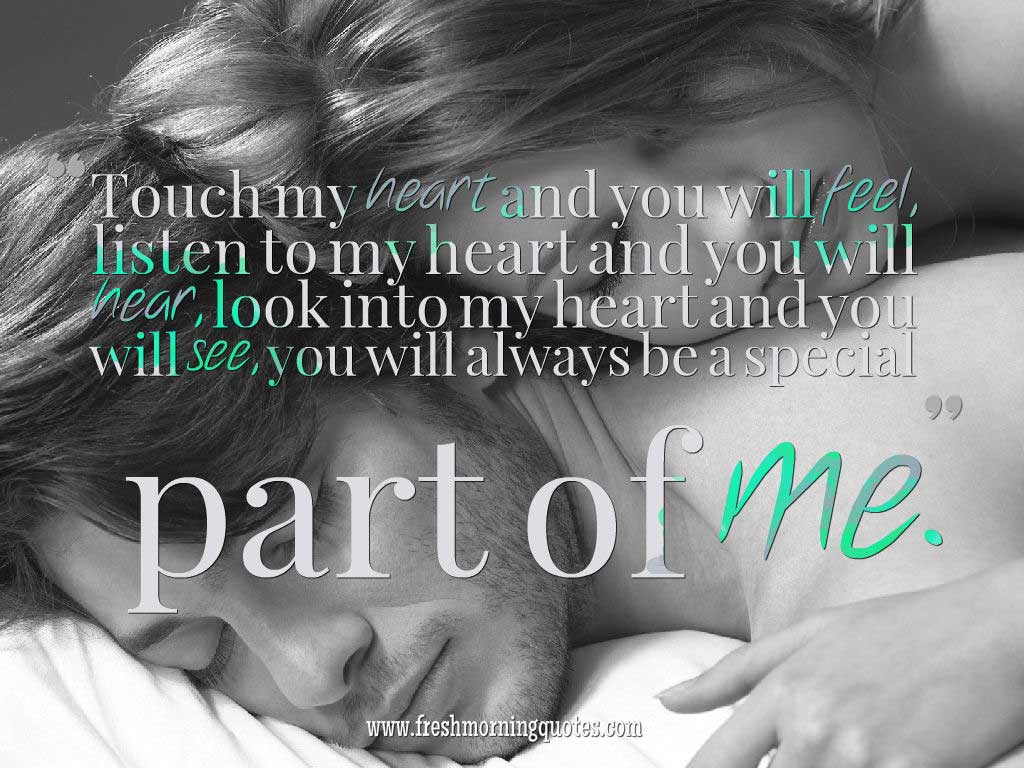 Being deeply loved by someone gives you strength, while loving someone deeply gives you courage.
---
When we are mindful, deeply in touch with the present moment, our understanding of what is going on deepens, and we begin to be filled with acceptance, joy, peace and love.
---
Love is a garden where you keep sowing seeds and then one day you reap exactly what you have sown. It could be one flower at a time or a thorn at a time. Sow wisely. –  John Crows
---
Immature love says: 'I love you because I need you.' Mature love says 'I need you because I love you.' –Erich Fromm
---
It is difficult to know at what moment love begins; it is less difficult to know that it has begun. –Henry Wadsworth Longfellow
---
We come to love not by finding a perfect person, but by learning to see an imperfect person perfectly.
---
You must love in such a way that the person you love feels free.
---
When you love someone, the best thing you can offer is your presence. How can you love if you are not there?
---
If our love is only a will to possess, it is not love
---
The source of love is deep in us and we can help others realize a lot of happiness. One word, one action, one thought can reduce another person's suffering and bring that person joy.
These beautiful and romantic deep love quotes for her and him that make you think, and deep quotes about love is the best love quotes compilation ever on the web. that you can send to your love partner. you can also check our best unconditional love quotes for more deep love messages for him.
You may also see :