Romantic good morning my love messages for couple is the cutest good morning love messages for your partner to help them start the day off feeling loved. Sharing a good morning love messages, Texts or SMS is a terrific way to get the romance flowing  in the morning!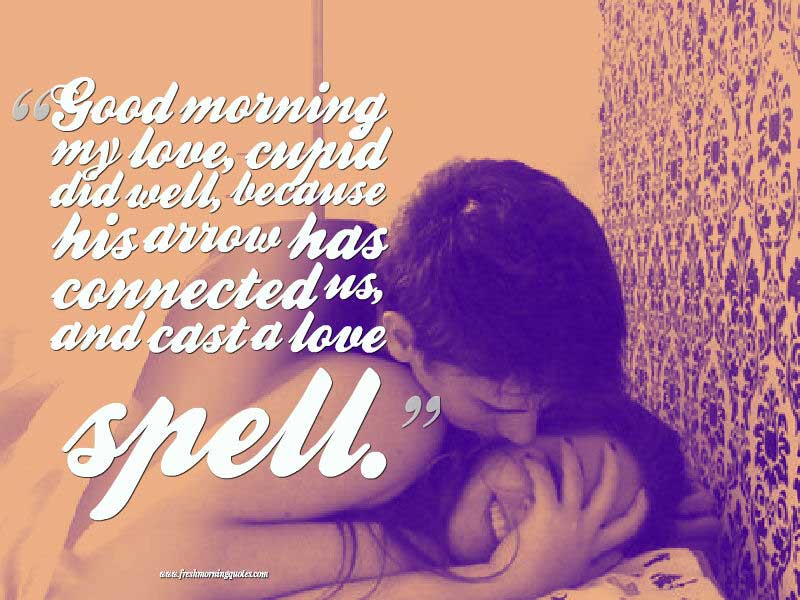 Of course, it can be difficult to find such good emotional good morning messages to express your feelings to your partner, but don't worry, we have gathered these Sweetest good morning my love messages that you can write to your love. We hope these will help you to find the perfect way to wish your girlfriend, boyfriend, wife or husband with beautiful good morning wishes!
Romantic Good Morning my Love Messages
To wake up this morning with the knowledge that you are my boyfriend is a blessing enough. Good morning my love.
---
Good morning my love. I just want to let you know that i'm thinking about you.
---
We have been through so much together but all the same come out stronger. May this new day strengthen our love and bring with it joy and warmth. Good morning.
---
When you open your eyes, you give me such joy, light and love. You are my world, my love.
---
Good morning love, i really look forward to the day i'll be waking up next to you every morning. Have a lovely day.
---
Now i understand why the birds were singing, the most beautiful woman on earth has just woken up. Good morning dear.
---
My heart is perfect because you are in it. Good morning my beautiful Love!
---
Good morning my love, cupid did well, because his arrow has connected us, and cast a love spell.
---
I must be the luckiest person alive because every morning I get to see the same amazing person who I see in my dreams every night. Good morning!
---
---
This morning is lovely, but not as much as you, my dreams are gone, but you're my dream come true. Good morning!
---
There is nobody in this world who I would rather kiss good morning to than you my beautiful love.
---
Morning beautiful, I hope you had a lovely night. I really miss you and hope to see you soon. Kisses.
---
I knew i had found someone special the day i met you. Every morning i keep on reminding myself how lucky i am to have you. Good morning my love.
---
Good morning my love, all night I did wait, to tell you right now, you're my destiny, my fate.
---
Every time i look into your eyes i see the warmth and love in them. I look forward to every new day because i get the chance to experience that all over again. Good morning my love.
---
Being in love with you makes every morning worth getting up for. Good morning my love.
---
Words can never express how much you mean to me, but i hope you do know that i love you. Good morning love.
---
Even a gloomy morning can never take the shine off your face. Good morning dear, i hope you had a lovely night.
Sending cute and sweet good morning my love message for you loved one, can turn his or her world around. which can turn an ordinary day into a happy one. so enjoy these great relationship good morning messages that can make your relationship stronger, and make you much closer to each other. show that you always care,  and love her or him, and have a great lovely inspiring morning ahead.
You may also Love :
40 Romantic Good Morning Messages for Wife
15+ Beautiful Good Morning Love Images with Flowers
100 Sweet Good Morning Messages for Girlfriend