The most romantic birthday wishes for wife is the beautiful birthday wishes that help to express our warmest feelings, love and gratitude for everything that she brings into your life. here we have try to collect the most heart touching birthday wishes that can make her smile.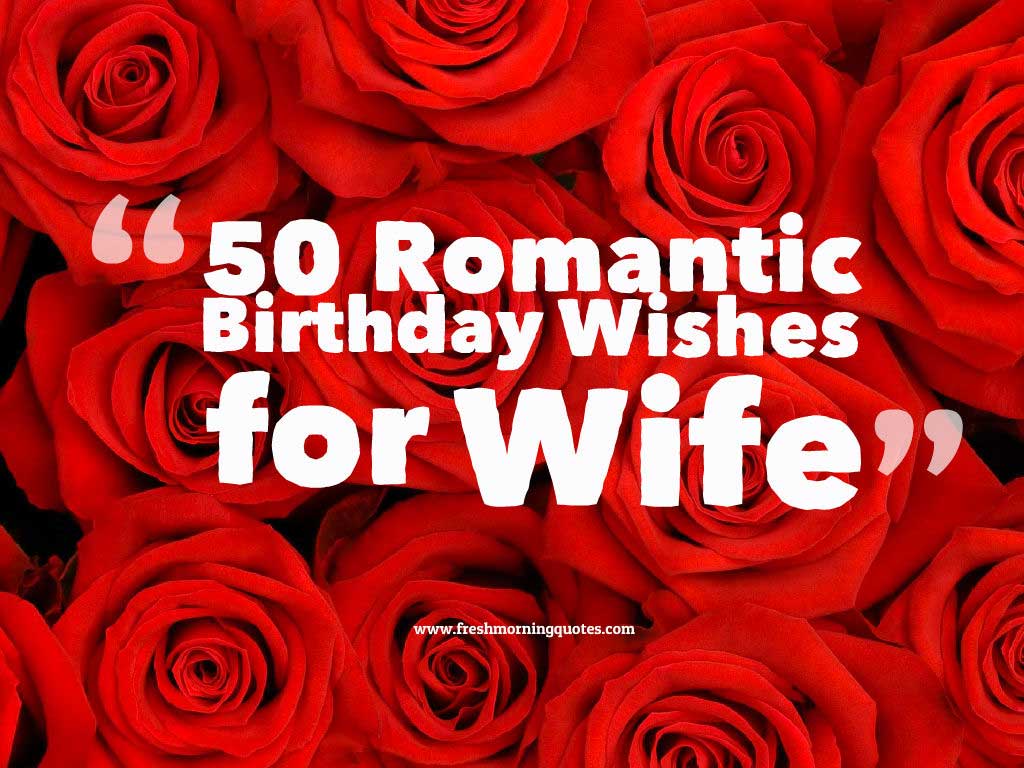 So here are some beautiful birthday wishes for your wife, to inspire you on your beloved birthday. write these beautiful lines of birthday wishes on greeting card or with a beautiful gift for her. there is also some romantic birthday wishes for girlfriend, if you want check them out.
Now enjoy the list of beautiful romantic birthday wishes for wife…
Romantic Birthday Wishes for Wife
Happy birthday honey, you mean so much to me that you can't even imagine. May your day be unforgettable!
I feel so blessed to have such a beautiful and supportive life partner like you, sweetheart! I wish you true happiness on your birthday and always!
Thank you for sharing your life with me, darling, you are so precious to me. Have a beautiful day, full of joy!
The fact of the matter is that nobody does it for you like I do it for you, except for your birthday because with each passing year you look better and better. Happy birthday.
You are the only reason why I breathe, you are the best thing in my life. I love you so much. Happy birthday!
Thank you, dear, for making our family so happy and complete every single day. On your special day I wish you countless moments of joy!
On our journey of life together my love for you is getting stronger and stronger. I am so thankful that you are next to me all the time, happy birthday to you!
Happy birthday to my wonderful wife! I feel blessed to have such a loving and caring person in my life. Love you so much, darling.
You are kind, amazing, fantastic, beautiful and sexy. I'm so glad that I married you. Happy birthday!
I know you have a lot of things to do, so I'm going to go ahead and take them off your hands and do them for you. Happy Birthday – I love you!
On your special day, dear, I'd like to tell that my love for you is never ending and I feel so happy to have you by my side!
May all your life be filled with loving memories! Happy birthday, sweetie! Let's spend another year happy and in love.
I am willing to fulfill your dreams and have the most amazing experiences together!
Every now and then someone comes into your life and they turn it upside down -in a good way- and you are that someone for me! You are my everything and I wish you a very happy birthday.
You give my life a purpose that helps me overcome all the bad moments and all the anxiety. I am so lucky to have a wife like you. Happy birthday, dear!
No words can express my feelings for you, honey. You are my love, my sunshine, my life!
Happy birthday to my lovely, most pretty and the best wife!
Every year with you is better than the last. Thank you for that sweetheart! Happy Birthday!
Congratulations honey! You have circled our Sun again and it's your Birthday! I wish you the best, and a seven course dinner tonight. See you at six o'clock.
Happy birthday to the woman that has stolen my heart, to the light of my life, to my darling wife!
Happy Birthday, and for a truly perfect day because you are so special, I wish you a wonderful day.
I feel a very lucky guy to have such a beautiful, smart, hot and simply amazing wife. Love you so much, sweetheart, happy birthday!
I bought you this cake because it is as sweet and gorgeous as you. Happy birthday my beautiful love.
I hope this day makes you feel as good as you make me feel. Have a blessed Happy Birthday sweetie.
Wherever life takes us, my favourite place on Earth remains the same – it's being by your side!
The most heartfelt birthday wishes to my beautiful wife. You will always be the queen of my heart, darling.
You are my best friend, my soulmate, my lover. You are my number one, baby, happy birthday!
It is another birthday for you, and another year of being together. Thank you for putting up with me and have a very happy birthday darling.
My darling wife, you are so sweet and you know that I cannot resist the sweet things!
All the riches in the world are useless without you and your love! Happy birthday to the diamond of my life!
I'll never forget that sparkle in your eye that made me fall in love with you. Happy Birthday my love! You never lost that sparkle.
As you are celebrating your special day, I want to tell you how wonderful wife you are. Without your love, sweetheart, my life would not be complete, happy birthday!
On your special day I wish to let you know that you are my world and I cannot imagine my life without. The most loving birthday greetings to my adorable wife!
I feel so happy to have such a special woman by my side. May your Day bring you lots of amazing moments to cherish!
Hoping this birthday greeting brings a whole lot of love and wishes for a day of all the nicest things.
With love and birthday wishes, to wish you a day to remember, especially for you!
Nothing in this life compares to you and nobody has ever done so much for me. You are a true inspiration and a delight to be around. Happy birthday gorgeous!
One of the secrets of a happy life is a slow and steady amount of little treats. Happy Birthday!
I am much happier because I share my life with you. I hope our happiness will last forever, happy birthday, honey!
Happy birthday to the only woman I know that never ages and always looks so ravishing!
Happy birthday to the most beautiful woman, the sweetest mother and the most amazing wife! I love you, darling.
Happy Birthday – It's your day for dreams to come true. May your life be filled with love and happiness.
I believed that God created you for me to love and take care. Happy Birthday to the one and only love of my life!
You are the love of my life and always will be. May your special day and every day be full of happiness and joyful moments!
My beautiful wife, I want to let you know that I am falling in love with you every day again and again!
Once in a lifetime someone gets to meet someone, but I have been fortunate enough to marry this special someone! I hope you have a beautiful birthday. Happy birthday dear.
Your birthday is a perfect occasion to tell that I notice and appreciate all the special things that you do every day to make my life so beautiful and meaningful!
I am lucky that I get to see you smile every single day, and I am even luckier to call you mine. I hope you have the best birthday ever.
Life with you is like living in a wonderful dream, which becomes more and more beautiful every day!
I am so grateful for the love that you are giving me every day. I love you so much, happy birthday sunshine!
My dear, you know I want to give you the best of everything in this world not only on this special day, but every single day, happy birthday!
All the best wishes to my the most amazing and beautiful wife on her special day!
Thank you for coming into my life, honey, you make it so joyful and meaningful. Have a magical birthday and a wonderful year!
I am so glad that you came into my life and filled it with joy, love and endless happiness!
We hope you enjoy these romantic birthday wishes for wife, take some great idea's from these collection to write something of your own, or add these sweet lines by calling her name or with the sweet memories from your life. wish her a happy birthday in the morning with a hug, and tell her how much you her with a sweet kiss. you can also arrange a romantic candle light dinner for her on night with a special gift for her.. make it one of the best birthday moments on her life..
You may also love :
Happy Birthday Images and Wishes
Top 30 Happy Birthday Quotes of All Time