The most beautiful collection of romantic good morning kissing quotes. these are beautiful kiss love quotes for your beloved girlfriend, boyfriend, wife, husband , him and her. kissing your beloved ones in morning is the best way to make their day a beautiful one. it will change the mood of your day into the most romantic and lovely one.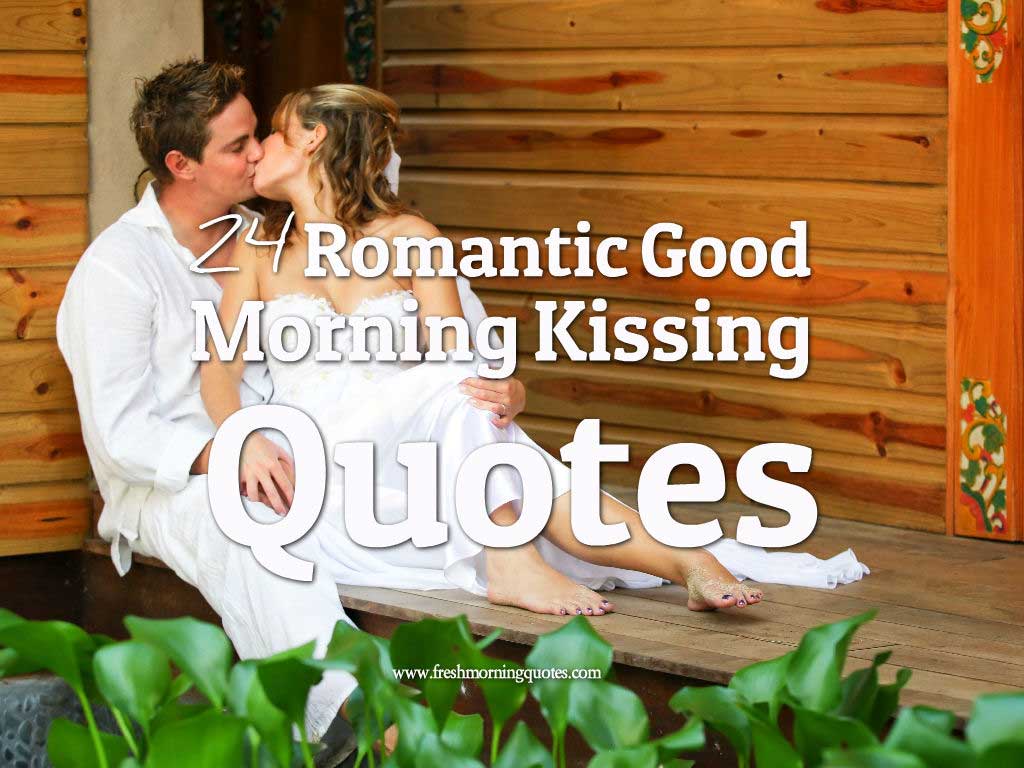 Below we have shared the romantic good morning kissing quotes. you can also check out our good morning kiss imagesfor some awesome couple kissing images and Thoughtcatalog's post for romantic quotes about kissing.
Romantic Good Morning Kissing Quotes
When you wake up in the morning, kiss your loved one on the forehead and wish them a good day.
---
Kissing a Girl on the forehead is one of the sweetest things in the world.
---
Love is blind. Be very kind. When I kiss you. Please don't mind.
---
Kiss me until I forget how terrified I am of everything wrong with my life. – Beau Taplin
---
I'm going to kiss you now, and I don't know if I'll ever stop. – Jamie McGuire
---
Soul meets soul on lovers' lips. – Percy Bysshe Shelley
---
I was going to kiss him, and I was going to regret it. But at that moment, I couldn't bring myself to care. – Michelle Hodkin
---
Sometimes words cannot explain the feelings of mind, But still I can find the Love in your Eyes.
---
One Kiss on the forehead is much sweeter than a thousand kiss on the lips. No lust but full of love and respect.
---
I'm sending you a nice warm hug from my heart, a wonderful kiss just to brighten up your day, and a sweet good morning to start your day! Morning my love!
---
---
Now a soft kiss – aye, by that kiss, I vow an endless bliss. – John Keats
---
A night hug warms the heart, a night kiss brightens the day, and a good morning to start your day!
---
You're always new, the last of your kisses was ever the sweetest.
---
I want to Kiss You every minute, every hour, everyday.
---
The only thing better than a kiss, is the moment right before, when he looks into your eyes and leaves you breathless.
---
"Love is heat. You are sweet. When two Lips are meet. Love is complete.
---
If a kiss could tell you how much I love you, I am sure we would be kissing forever.
---
You should be kissed and by someone who knows how. – Margaret Mitchell
---
The best kind of Kiss is when you have to stop because you can't help but Smile.
---
I'm the oxygen he's dying to breathe.
---
---
A kiss is a secret told to the mouth instead of the ear; kisses are the messengers of love and tenderness. – Ingrid Bergman
---
Kiss me and you will see how important I am. – Sylvia Plath
---
His kisses tapped into deep mines of memory, and the years that had separated us fell away as if they were nothing. – Lisa Kleypas
---
Close your eyes and I'll kiss you, Tomorrow I'll miss you.
---
Your love is not really love until you waste it, a kiss is never a kiss until you taste it…Munia Khan
---
He took her into his arms again, using all his strength to be gentle, and let his lips touch hers so lightly he could hardly feel it. – Morgan Llywelyn
A kiss is the best way to express your love in the most beautiful way to your partner.  which is something you cannot give without taking and cannot take without giving. By kissing your beloved ones on this beautiful morning will make your relationship more stronger and loved. we have here shared some of the best romantic good morning kissing quotes, enjoy sharing them with your loved one and make it the most romantic day in your life. we hope you enjoy our romantic good morning kissing quotes for your beloved ones. also share them on social networking sites such as Facebook, Whatsapp, Pinterest, twitter and Google Plus.
You may also love:
30+ Truly Romantic Good Morning Quotes for Him
40 Romantic Good Morning Messages for Wife