Sweet love messages for him is one of the best collection of love messages for your beloved husband or boyfriend. most of guys don't admit that they enjoy receiving sweet messages from their partners as well as we do. After all, who doesn't want to be know how special they are for you. and how much you really love and care about them. so here is some of the best romantic and sweet love messages for him to ignite the spark in his heart.
Sweet Love Messages for Him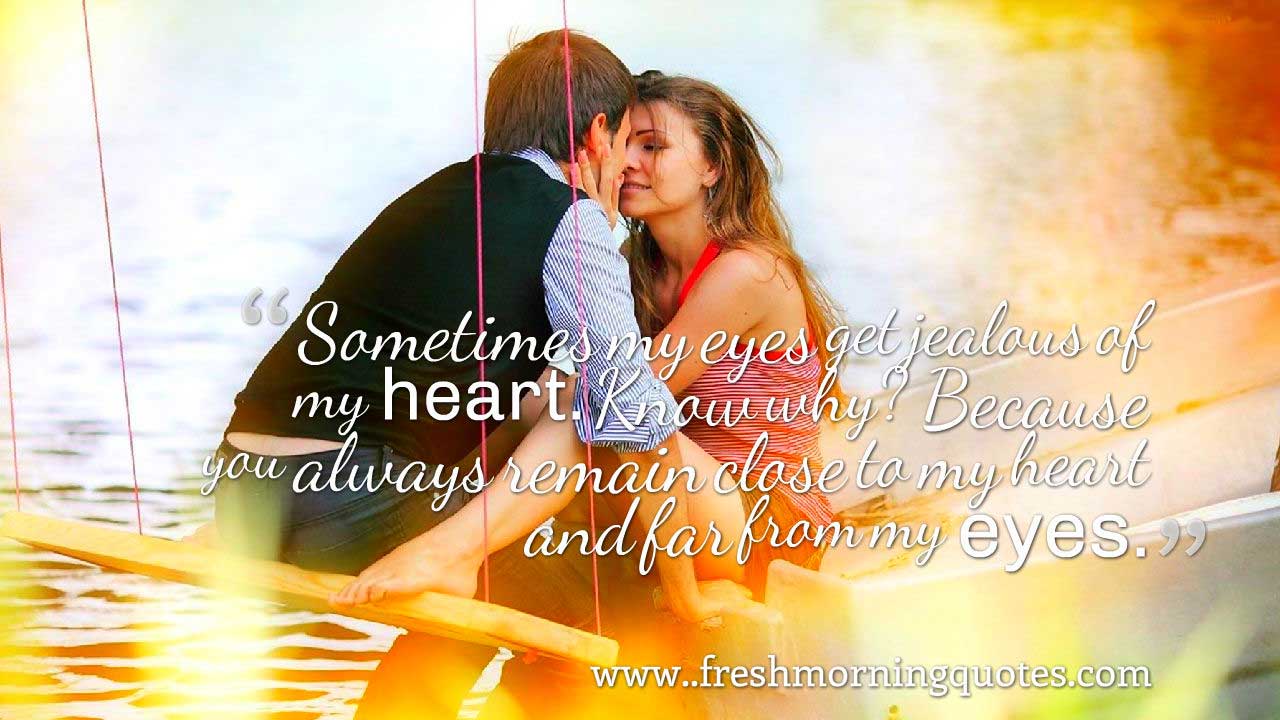 If I say I wrote your name in the sky
It will be a big lie
But believe me when I say
I'll love you today and every other day
Have a great day
---
Your love is like the sun for me. It keeps me alive and it makes me glow!
---
You were chosen for me to love amongst the rest because I would love you the best!
---
I loved how we watched the sunset together. I think I am in love.
---
Your hugs and kisses are the only sunshine I need in the morning. Good morning!
---
Sometimes my eyes get jealous of my heart. Know why? Because you always remain close to my heart and far from my eyes.
---
This morning I crave to be the first to talk to you and say good morning in your ear, but I desire to be awakened your kisses, baby wake up. Its already dawned.
---
When the air touches my skin, I imagine they are your kisses. When I feel the warmth of the morning light, I instantly remember your embraces.
---
I love you every morning, thanking God for having put you in my way and let me have your love, you are the most valuable thing that life has given me, have a wonderful day.
---
Every moment with you is the sweetest one. Good morning, my love.
---
---
I think you took the hands-off police too seriously when we fought.
---
You make my heart skip a beat. Every.single.time.
---
I love you. You make me feel like the only girl in your life. I hope this never changes.
---
Thinking about you and how far apart we are, makes my heart skip a beat. How long must I suffer before seeing you again?
---
You are my hero, my companion in time of trouble. You are the best thing that ever happened in my life. I love you so much sweetheart.
---
We may fight and we may cry, but we'll get back, I'll tell you why- because you are the reason I'll survive.
---
As I lie awake in my bed.All sorts of thought run through my head,Like why do I love u as much as I do.den I realize its because u r u!
---
You still give me butterflies in my tummy and make me giggle like a little girl.
---
I will expect you to surprise me with a visit this long weekend and if you fail to deliver, I will find you and I will kick your butt. P.S. I love you.
---
---
I miss you more every day and even though I am one day closer to the day we meet again, I miss you all the same.
---
You are my world. You are everything to me. I would be lost without you. You love me, care for me, make me feel good and there is no one better than you.
---
I believe that God above created u for me to luv. He picked you out from all the rest 'cos he knew id luv you the best!
---
When you realize you want to spend the rest of your life with somebody, you want the rest of your life to start as soon as possible.
---
Loving you comes to me as naturally as the rain falling, the sun shining and the flowers blooming.
---
When we are together, I feel better, stay with me forever, so I always feel safer!
---
You are the beat that makes my heart work and the music that makes my laughter come alive. You are the tears that fill my eyes. Love, you are my entire world.
---
I love you entirely with all my heart. Through thick and thin, we have been together and have fought for the survival of this relationship. I will always be there for you. I love you, baby!
---
If I had to choose my best day ever, my finest hour, and my wildest dream come true, mind you always be you <3
---
I miss you every second you're gone. *sad smiley*
---
---
Sweet as a rose bud bright as a star cute as a kitten thats what u are.bundles of joy sunshine and fun you are everything i luv all rolled into
---
Love teaches you until you learn, even if it takes long, it takes you where you belong!
---
I love so much my heart is sure.As time goes on I love you more,Your happy smile.Your loving face No1 will ever take your place
---
Your name written in sand was washed away, your name in the sky blew away, but your name is now in my heart, where it'll stay!
---
I love being with you. I miss you and can't wait to see you!
---
You are simply the best thing that has and will ever happen to me. You treat me like any woman dreams of being treated. My knight in shining armor! I love you, honey!
---
If I told you I couldn't live without you, would you know I'm trying to tell you that I love you?
---
Let these words be my eyes and this message my lips. I wish I were there to embrace you, wrap my arms around you. But I can't, so I am sending you this loving message.
---
Spending time with you is the most enjoyable thing ever. When I am with you, time flies in an instant but every waking second spent away from you is agony. I miss you and love you!
---
If you are wondering whether or not I am thinking of you, the answer is yes! I love you! Good morning!
These are some of the romantic and sweet love messages for him to send to your boyfriend or husband to make him happy, brighten his day and make your relationship sweeter. most people spend all their lives without saying how much they love someone. don't be that somebody forget to express your hearts feelings to your partner. no matter what you do, you just cannot fully express your love for one another but we can help you get some closure. with our list of some of the best and most romantic, cute, long text messages to send him.
You may also love :
40 Sweet Love Messages for Boyfriend
40 Truly Unique Love Messages for You