Our 40 cute quotes for her is the best love quotes collection for your beloved girlfriend/her. falling in love is one of the greatest joys in life, being with your loved ones is most happiest feeling in the world. it's time to let her know that you always care about her and value her more than anyone else. share these beautiful cute quotes for her and have a great time together.
If you need help in expressing your love and affection to your significant other, then refer to these top 40 cute quotes for her.
Cute Quotes for Her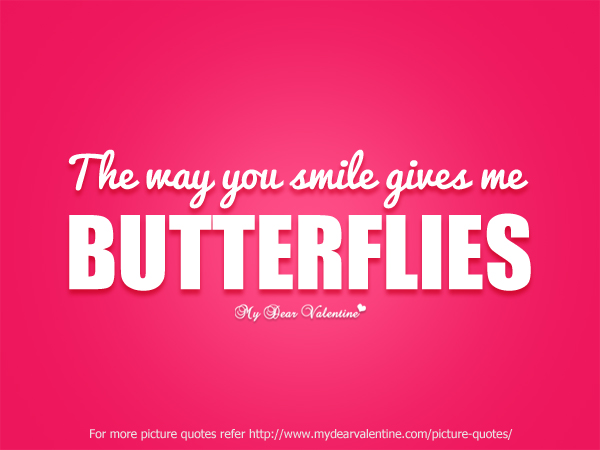 I may not be able to see you as often as I want to. I may not be able to hold you in my arms all throughout the night. But deep in my heart, I truly know that you are the one I love and I can never let you go.
Once upon a time, we were just strangers. But when I saw you for the first time with that cute smile… Everything changes.
I love you not only for what you are, but for what I have become when I am with you.
We normally close our eyes when we experience something beautiful just like an intimate kiss or a happy dream. But these days, whenever I close my eyes, all I can see is YOU.
You're special to me in every way. Thank you for being who you are and for allowing me to be myself.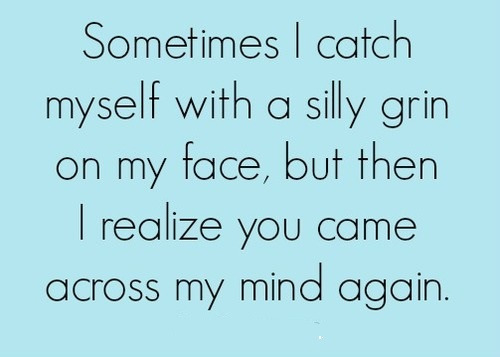 I just want to be with you day and night. In fact, the best feeling I get is when I get to see your face early in the morning and then dream about you when I go to sleep at night.
Although I found you in a truly extraordinary way, I feel like I have found a precious pearl within an oyster after diving deep down the sea. Baby, you are that precious to me.
Kiss me. Hug me. Love me. The same quantity of those sweetest things I will return as soon as possible.
My love for you is like a journey that started at forever and ends in never.
Someone up there must be watching out for me, because they sent Heaven's most beautiful angel into my life.
On the day that we have shared our first kiss… I knew you were going to become my Mrs.
We spend most of our time talking about nothing but I just want to let you know that all these nothings mean so much more to me than so many somethings.
I was drawn to your soul in a way that I have never experienced before. You truly are the only one who can see the door towards my soul.
The hours that I have spent with you is like a sweet smelling garden with a dim twilight and a fountain wonderfully singing to it.
Sweetness flows from your appearance. Your beauty makes me fall more in love with you each day, I love you baby.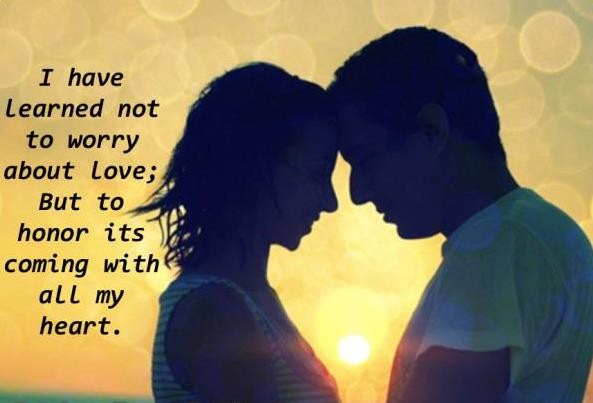 There is not enough that I can write about you but I want to end this page by telling you that I really daringly love and adore you.
I love you. I am who I am all because of you. You are the reason, hope and every dream I have ever had and no matter what happen… I will always be yours, now and forever.
You're the reason why I wake up in the morning. You're the reason why I always smile. You are the reason for everything and you are the reason for my existence.
If kisses are stars, I will surely give you the sky. If touches are tears, I will surely cry. If love is water, then I will give you the sea and be with you until eternity.
Your love has changed a lot of things in my life. People say I am a much better person now, but I guess when you fall in love, everything in your life will surely change.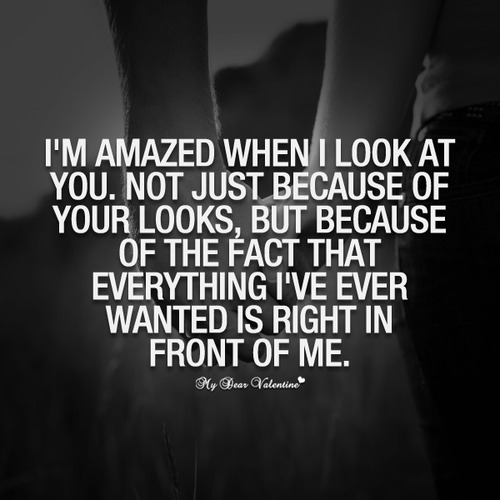 Don't be afraid to fall in love again. Open your heart and follow where it leads you…and remember, shoot for the moon.
With every beat of my heart, I love you more and more. You're the rhythm that keeps me steady on the march through life.
I love you and that's the beginning and end of everything.
The sun brightens the day and the moon brightens the night, but you brighten my life.
Cute Quotes for Girlfriend
If I could be anything in this world, then I would wish to be a teardrop. Why? So I will come out of your eyes, live on your cheeks and die right on your lips.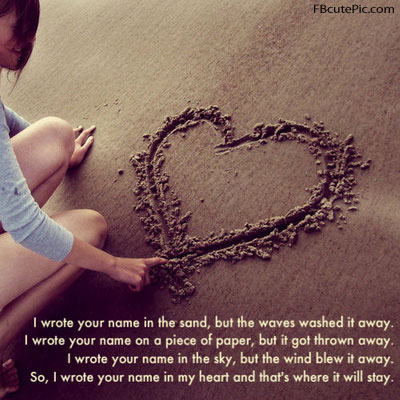 You are the inspiration behind all that I do, and the source of all that is good in my life.
If I could have just one wish. I will wish to wake up every day to the sound of your breath, to the warmth of your lips and to the touch of your fingers on my skin.
You are every reason, every hope and every dream I've ever had.
You are certainly the most special person I have ever met. We may have married once, but in my mind, I am married to you a thousand times.
Your thoughts are engraved in my heart. Your sweet name is etched in my heart and your pure love is embedded deep in my soul forever.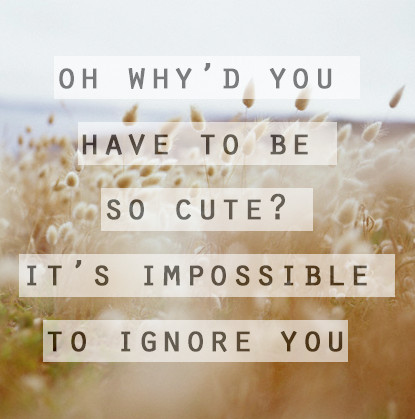 Each time you say the three beautiful words, I LOVE YOU, I often cherish that moment just like a treasure and will consider it the most wonderful moment of my life.
You may hold on to my hand for awhile, but you have held my heart forever.
I love you and I don't care what will people say about you. We can never satisfy everyone but pissing them off by loving you is so much more fun.
Touch my heart with your fingers and you will hear the most wonderful heartbeats dedicated only to you.
Your cute smile and your happy laughter is what attracted me to you. But it is your caring and loving nature that is the reason why I have decided to spend the rest of my life with you.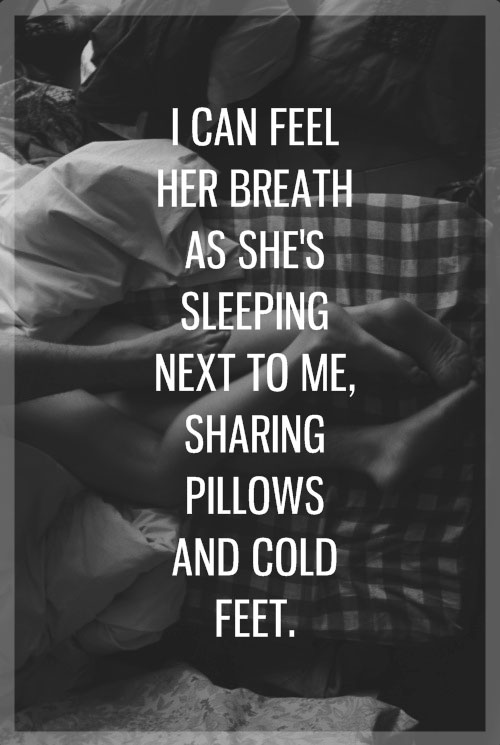 Within you, I lose myself. And without you, I find myself… But wanting to be lost again.
You came to my life like a night thief. You bloomed in my heart just like a red rose and I want you to give light to my life just like the morning sun.
For the touch of your hand and for the beat of your heart, for your small embrace and for your sweet little kisses… Thank you.
I love you because I love you. I love you without question, without hesitation and without any reason.
Just like the candle that burns into flame, my head burns it's everlasting love for you.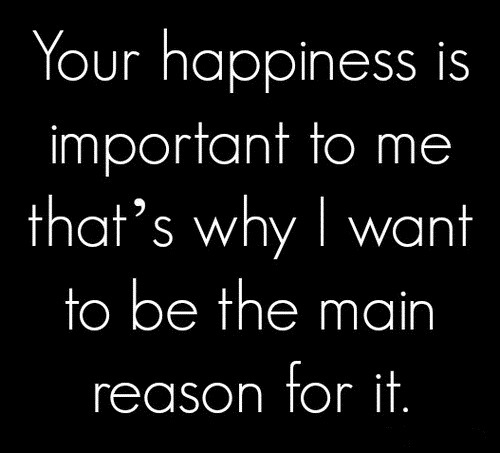 We hope you enjoy our cute quotes for her, you can also check out our cute romantic good night quotes for her and Beautiful Adorable Cute Love Quotes for Her.
Read also : 50+ Cute Good Morning Quotes for Her from Heart