Life is not always perfect, it can be tough and challenging. always make count of every moment by free yourself and enjoy with positive mind. and don't forget the promises you have made so far. it's your duty to fulfill your words and show your beloved ones that you have kept your word. here is some famous promise quotes that can inspire your loved ones and let them know the value of your word…
Famous Promise Quotes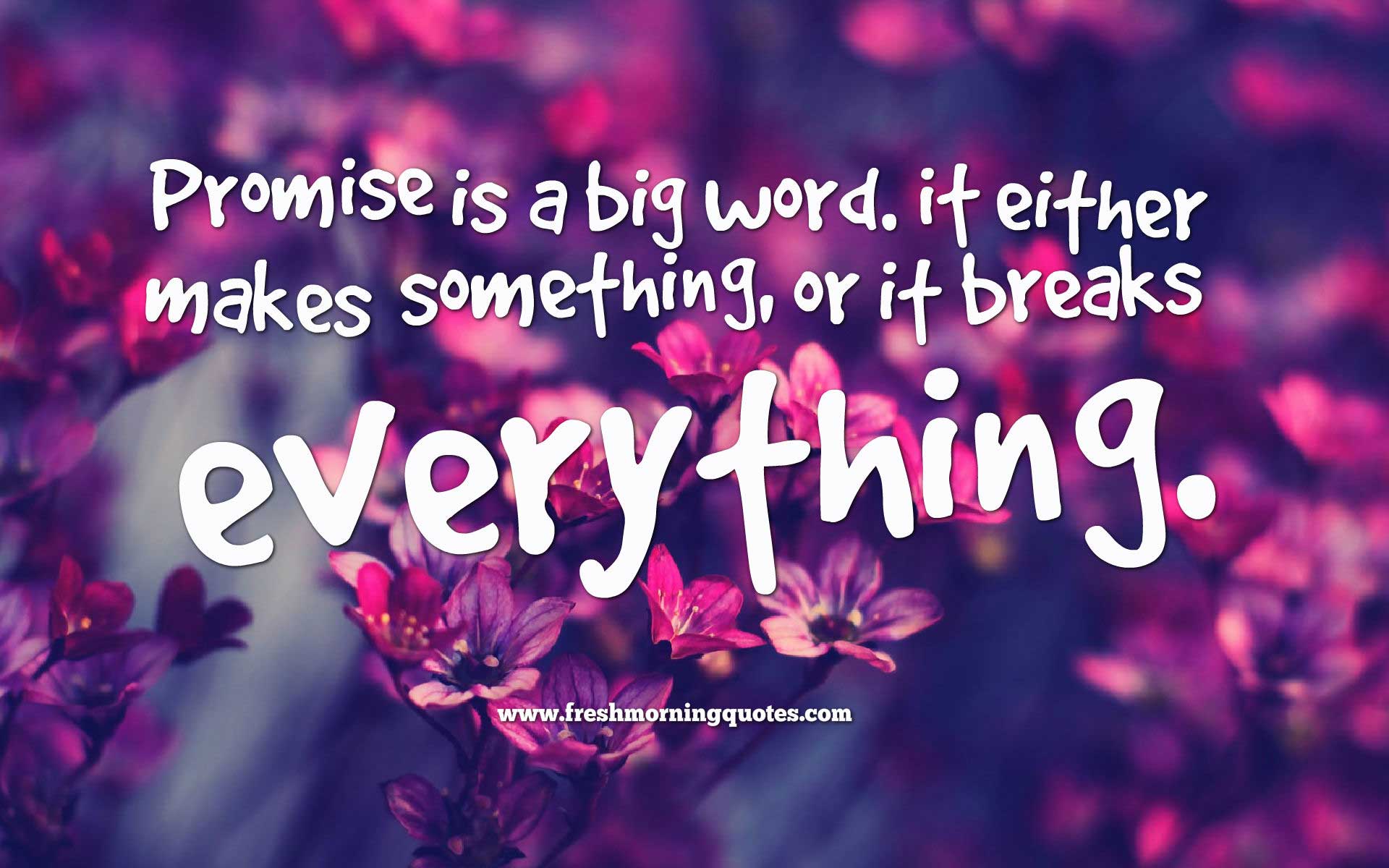 For every promise, there is price to pay.
---
Never take a solemn oath. People think you mean it.
---
There are certain promises you make that are more sacred than anything that happens in a court of law, I don't care how many Bibles you put your hand on.
---
If you make the customer a promise… make sure you deliver it.
---
Don't ever promise more than you can deliver, but always deliver more than you promise.
---
Magnificent promises are always to be suspected.
---
Promises that you make to yourself are often like the Japanese plum tree – they bear no fruit.
---
Some people break promises for the pleasure of breaking them.
---
When you become your own best friend, life is easier.
---
All promise outruns performance.
---
---
Breach of promise is a base surrender of truth.
---
You cannot live on other people's promises, but if you promise others enough, you can live on your own.
---
Few promises are more sacred than the ones we make to older Americans.
---
Promises are like crying babies in a theater, they should be carried out at once.
---
Half the promises people say were never kept, were never made.
---
Never make a decision when you are angry, never make a promise when you are happy.
---
I can't promise to always smile, because life always has a way to make me cry.
---
Never make a promise in haste.
---
You can't trust a promise someone makes while they're drunk, in love, hungry, or running for office.
---
Promises may fit the friends, but non-performance will turn them into enemies.
---
---
Vows are made in storms and forgotten in calm weather.
---
Commitment is like trust, never commit if you can not make it. Nothing wrong to say no on the face than making someone a fool.
---
Where there is an unknowable, there is a promise.
---
There are no guarantees. From the viewpoint of fear,none are strong enough. From the viewpoint of love, none are necessary.
---
When you promise something, you must fulfill it.
---
Promises are like the full moon, if they are not kept at once they diminish day by day.
---
God's promises are like the stars; the darker the night the brighter they shine.
---
Promises are the uniquely human way of ordering the future, making it predictable and reliable to the extent that this is humanly possible.
---
I believe in the sacredness of a promise, that a man's word should be as good as his bond; that character – not wealth or power or position – is of supreme worth.
---
We must not promise what we ought not, lest we be called on to perform what we cannot.
---
---
When a man repeats a promise again and again, he means to fail you.
---
A promise made is a debt unpaid.
---
You can't substitute promise after promise with known violators of prior promises at the expense of protecting ourselves or setting an example.
---
The reason so many promises are not kept is the same as the reason they are made in the first place.
---
The promises of yesterday are the taxes of today.
---
Rarely promise. But, if lawful, constantly perform.
---
Promise, large promise, is the soul of an advertisement.
---
Never promise more than you can perform.
---
Promise is most given when the least is said.
We hope you have enjoyed some of the best famous promise quotes. now check out some of our other promise quotes collection below.
You may also love :
Keeping Promise Quotes & Sayings
42+ Heart touching Love Promise Quotes