Good Morning Whatsapp status messages & updates is the most beautiful way to celebrate a beautiful morning. a few words with which we can start our day gracefully. which also the most inspiring words of wisdom that encourage us and inspire us.
We should welcome every morning with great enthusiasm and a lot more expectations. these are some of the best good morning Whatsapp status messages that you can update in the morning or send to your beloved friends, family, and loved ones.
Good Morning Messages for Whatsapp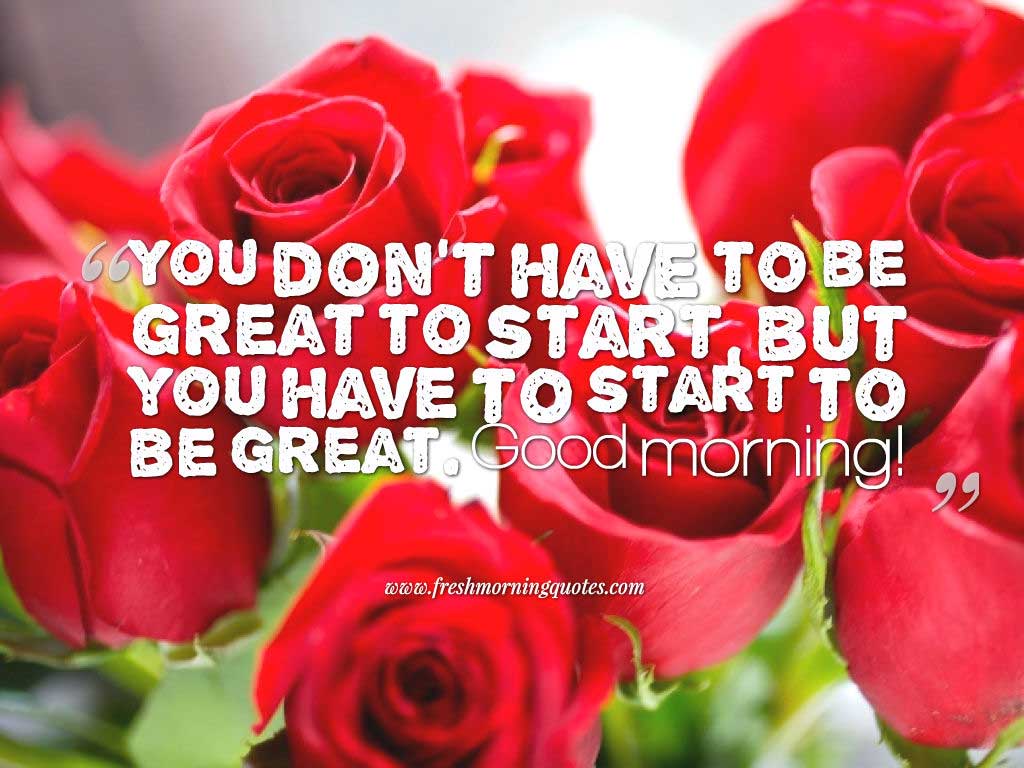 You don't have to be great to start, but you have to start to be great.
---
Rise up start fresh see the bright opportunity in each day.
---
A great attitude is like a perfect cup of coffee – don't start your day without it. Good morning.
---
No matter how good or bad your life is, wake up each morning and be thankful that you still have one.
---
Your journey will be much lighter and easier if you don't carry your past with you.
---
Wake up and face life's challenges head-on. Else, life will become quite a challenge. Good morning.
---
An early-morning walk is a blessing for the whole day.
---
This is not just another day, this is yet another chance to make your dreams come true. Good morning.
---
Don't wake up with the regret of what you couldn't accomplish yesterday. Wake up while thinking about what you will be able to achieve today. Good morning.
---
Your future is created by what you do today not tomorrow.
---
Some days you just have to create your own sunshine.
---
Each good morning we are born again, what we do today is what matters most.
---
A little step may be the beginning of a great journey.
Good morning Whatsapp status for her
Every morning my love for you keeps growing and I feel like I am getting closer to you as each day passes by. You are the dream love of my life and I need you every day. Good morning.
---
Romance is a pleasurable feeling and this good morning status will increase the love from both sides. She will really admire your effort.
---
I hate to wake up because it takes me away from all the dreams I was having about you last night. Good morning.
---
Her smile is the only inspiration I need. Her voice is the only motivation I need. Her love is the only happiness I need. Good morning.
---
Look out of the window and take in the brightness from the sun.
---
My past will never haunt me, as long as I have you, sweetie. Good morning.
---
I must be the luckiest guy alive because every day I meet the girl who I saw in my dreams the previous night. Good morning.
---
You are the pulse that throbs in my veins, you are the antidote that frees me of all pains. You are the rhythm of my heartbeat, without you my life would be incomplete. Good morning.
---
The beautiful morning DEW and the lovely morning HUE are symbolic of my love for YOU. Good morning.
---
Morning or afternoon, evening or night, I will always love you with all my might. Good morning.
---
You are my world. Good morning.
---
The best feeling in the world is to know that you belong to me and you are mine. Every morning that is all I need to know and that itself is enough for me to have a good day.
---
Forget the clouds and shadows of doubt and fear.
---
Life awaits you in all its fullness, it's another beautiful day.
---
Regardless of life's ups and downs, you're the sunshine that wipes away my frowns.
---
I don't care whether the sun rises or not, my morning starts only after I say that I love you a lot. Good morning.
Good morning Whatsapp status for him
Mornings are the loneliest part of the day because that is when I need you the most to give me warm hugs and cute cuddles. I miss you, good morning.
---
Happy thoughts are the only cure for a sleepy morning… and I feel the happiest when I think about you. Good morning.
---
It doesn't matter if I have a coffee or tea. I will feel the same… as long as I know that you are thinking about me. Good morning.
---
Your hugs and kisses are the only sunshine I need… Good morning.
---
Each day, I begin another happy day with the excitement that comes from being with you.
---
My pillow hates you because it knows that I would trade it for your warm shoulder any day. Good morning.
---
As soon as I hear your voice, see a picture of you or hold your hand, I am ready to face any trouble that the day may throw at me.
---
Thank you for being you — for sharing your love with me.
---
I don't know what is more romantic – the thought of meeting you soon or the dream I had about you last night. Good morning.
---
Every day in my life is perfect because it starts by wishing you good morning. Love You.
---
A cozy selfie with you is the perfect way to cherish the morning hues. Good morning.
---
I didn't plan it, but you're the best thing that's ever happened to me.
Good morning Whatsapp Status for Friends
Waking up in the morning has become much easier for me, knowing that I will be spending the day with amazing friends like you. Good morning.
---
A soulful good morning message is a sweet gift that does not come wrapped in a box but can be stored forever on your WhatsApp. Good morning.
---
Now that such a sweet person like you has read this message, I won't need to put sugar in my coffee. Good morning.
---
This morning doesn't let the worries of life put you down. Remember that I was, I am and I will always be with you like a faithful friend. Good morning.
---
Today's forecast for all my friends: If you are reading this message, nothing can stop you from having an incredible day. Good morning.
---
The only thing more beautiful than the warm sunrise is our Friendship. Good morning.
---
Have an awesome morning and if your day goes really well, thank me in the evening for wishing you so. Good morning my friend.
---
As the morning breeze touches your face, remember that someone far away is thinking about you and hoping that you will have a good day. Good morning.
Funny Good Morning Whatsapp Status
Twinkle twinkle sleepy star, wake up now it's the 11th hour, up above the world so high, the sun has risen in the sky.
---
I believe there should be a better way to start each day…instead of waking up every morning.
---
I want to taste your lips, touch your teeth and feel your tongue every morning. That is what COLGATE says each and every morning. Good Morning.
---
Some mornings I just feel like breaking the damn alarm but then one thing always stops me. I paid hundreds of dollars to buy my phone.
---
If you make me COFFEE in the morning, I'll love you forever, or at least until the coffee is gone.
---
Everyone wants me to be a morning person. I could be one…only if morning began afternoon.
---
This morning I put red bull into my coffee.
---
5 minutes of extra sleep in the morning seriously does matter…
---
Keep the dream alive: Hit the snooze button…
---
It's easier to stay awake till 6 AM than to wake up at 6 AM.
Here we have gathered some of the best Inspirational good mornings Whatsapp status messages, good morning Whatsapp status for her, him and funny good morning status messages. start this morning with the most beautiful good morning wishes, and you will start receiving good morning wishes from your beloved ones too. We also like to wish Good Morning to all the beautiful viewers.
You may also love :
100+ Good Morning Status Messages for Whatsapp
Good Morning Status for Whatsapp and Facebook
40+ Good morning Coffee Images Wishes and Quotes