It's Friday, and you're so excited about your weekend day plans. the lazy days have come again, it's time for fishing, tripping, and day and night entertainment to make the most out of your weekend. so with that awesome day ahead with your beloved friends, family, and loved ones with some beautiful happy Friday messages to welcome this weekend and share the joy of your weekend.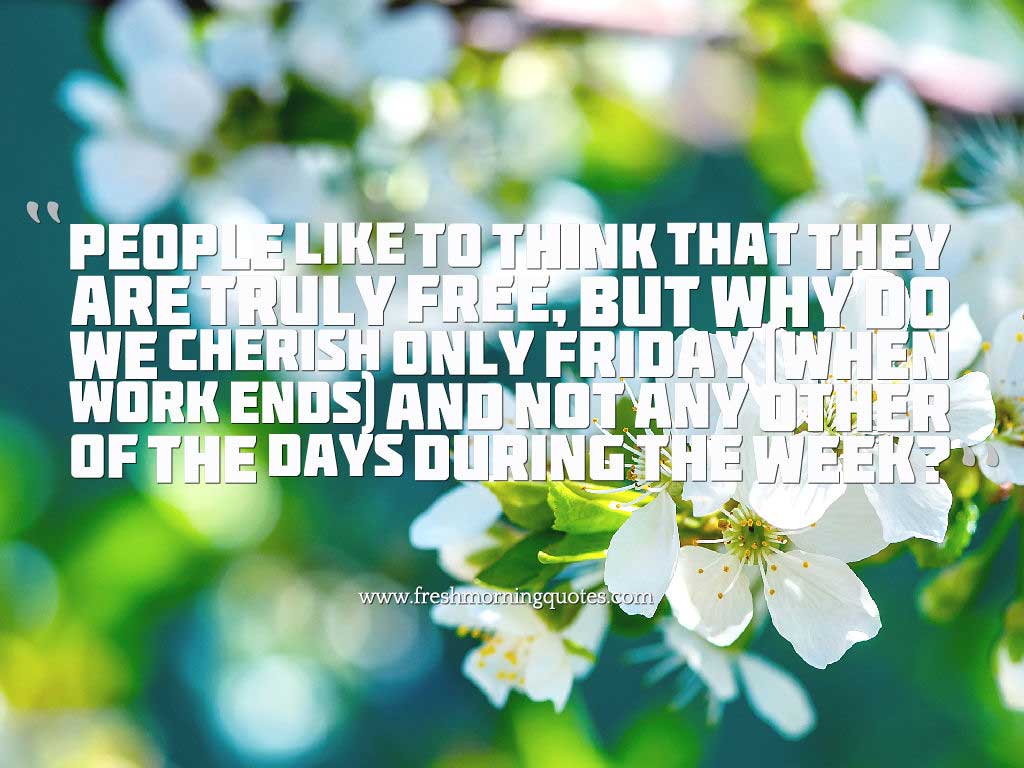 So it's simple as that, just pick one of your messages and send it out, make your loved ones' weekend worthy and more beautiful. if you wish to post something onto Facebook, Twitter, or Whatsapp Status, check out our  Funny happy Friday quotes. so enjoy our list of beautiful happy Friday messages, SMS, and text messages below.
Happy Friday Messages
You can have fun all year long, but there is something truly special about sitting down and relaxing on a Friday night while everyone else is too drunk to remember the evening.
---
I couldn't be happier. It is Friday, and my life is filled with great family and friends that I love to share the day with.
---
Thursday doesn't really count as a day. I see it as an obstacle that was put in place to block me from seeing Friday.
---
The first thing I do at the start of every week is drops to my knees and pray for Friday to come as fast as humanly possible.
---
Who cares about Monday, Tuesday, Wednesday, and Thursday? My week starts at 5:01 on Friday and ends at 9:00 on Monday.
---
I have tried all of the other days in the week, and nothing seems to compare to my beloved Friday. Happy Friday everyone.
---
Give someone a hug. Give someone a kiss. It is Friday, and there is no better day in the week to start and finish as fast as possible.
---
The golden time of our lives always starts on a Friday. Whether we're in school or have a job, Fridays are awesome.
---
---
Oh, what a glorious day. Not only is Friday here, but I have a full two days off with those that I love. Life is good.
---
Big dreams. Big inspirations. This is what we have all waited for: Friday to come and go, so the weekend can start.
---
What are you doing this weekend? I am going to reflect on Friday and try to figure out why I am not excited for any Monday that comes.
---
I feel bad for Friday. It is the one day that I am so happy to see, yet the only day that has to see me spend all of my time with Monday through Thursday without ever judging me.
---
Why is it that it takes me 7 full days before I can sit down and breathe a sigh of relief that it is Friday night?
---
Friday is like a cold beer that lasts all night through Saturday and Sunday before being cut off by the miserable Monday.
---
How do you know it's Friday? Look at everyone around you counting down the seconds until the weekend starts.
---
I have always been told that if you love something, set it free. Friday comes and goes, and always finds its way back to me.
---
---
Friday is like a green light; you speed up until after work and start to slow down once the light turns yellow.
---
What does a person that loves their job say? It's Friday already? Those that hate their job say: thank God it's Friday.
---
You know that life is good when you get to sit down on a Friday and drink wine while forgetting all of the challenges of life.
---
Every day that we wake up with oxygen in our lungs is a good day, but when that day is a Friday, it is even better.
---
I came home, took a shower and sat down to eat before realizing that today is Friday and I don't have to go to work tomorrow. Woohoo.
---
Monday could disappear and I wouldn't shed a tear, but Friday, you're too dear to my heart to ever fall apart.
---
People like to think that they are truly free, but why do we cherish only Friday (when work ends) and not any other of the days during the week?
---
Never take Friday for granted. Friday is the day that allows you to lounge around in your boxers all weekend long.
Happy Friday SMS TEXT Messages
I am pleased to express my sincere
wishes on this great month,
And pray to GOD to
do This occasion is one of grace,
Health and continued happiness.
Please remember me in your prayers.
Happy Friday.
---
Friday Means Peace Of Mind,
Long Sleep,
All Day Naps,
Some Good Food And A
Joyous Weekend Ahead.
Happy Friday!
---
Friday Means The Start Of The Weekend,
Weekend Means Awesomeness,
So Be Thankful That It Came,
Happy Friday!
---
Fridays Are Hope For
Peaceful Weekends,
Calm Days Ahead.
I Wish You Have A Very
Calm Friday And Weekend Ahead.
Happy Friday!
---
Full of success, prosperity and happiness, and joy.
God may give them protection and good health.
Happy Friday.
---
Don't Lose Hope,
Don't Take The Pressure.
Just A Little More,
Then Weekend For Sure,
Happy Friday!
All Days Are Beautiful
But Fridays Have Their Own Charm,
You End Up The Work
And Get A Weekend Surprise,
Happy Friday!
Have A Lighter Day,
Have A Brighter Eve,
Have A Blessed Night,
May Your Day Be So Bright,
Happy Friday!
---
This occasion is one of grace,
Health and continued happiness.
Please remember me in your prayers.
Happy Friday.
---
I Wait For Fridays Like
The Babies Wait For Cheese Cakes,
So Eagerly,
So Passionately,
This Is My Innocent Way,
Hope You Do The Same,
Happy Friday!
---
There is a king of everything so that
Friday is a day which is the king of days.
So Happy Friday
---
Put On Some Extra Make Up,
Wear Your Favorite Dress,
Handle The High Heels,
Because It's The Last Day
Then It's A Weekend..
Happy Friday!
Did you enjoy our list of happy Friday messages as much as we did? we have tried to select the funniest and enjoyable happy Friday messages for you. If you had a great time reading through our Friday SMS TEXT messages, then please share this list with your friends to spread the joy!