The beautiful romantic love quotes images for your love can always inspire your mind and beautiful heart.  these sweet and romantic love quotes images will make you enjoy your time with your loved once and make it worth while. hope you will enjoy our quotes and do share them with your love.
Being in Love is a wonderful feeling and when you are in love with some one, you will always try to do the things that your loved ones likes. love is the best feeling ever in this world that makes us forget everything else. makes us forget our pains, worries and you will be only caring about your life together with loved once.
Romantic love quotes Images for your love
One day I caught myself smiling for no reason, then I realized I was thinking of you.
Every love story is beautiful, but ours is my favourite.
Love is my religion and I could die for that. I could die for you.
Somewhere between all our laughs, long talks, stupid little fights, and all our lame jokes… I fell in love.
Wouldn't it be a perfect crime if I stole your heart and you stole mine?
Before I met you, I never knew what it was like to be able to look at someone and smile for no reason.
I never loved you any more than I do, right this second. And I'll never love you any less than I do, right this second.
Meeting you was fate, becoming your friend was a choice and falling in love with you was beyond my control.
I have seen the best of you, and the worst of you, and I choose both.
Forever is a long time but I wouldn't mind spending it by your side.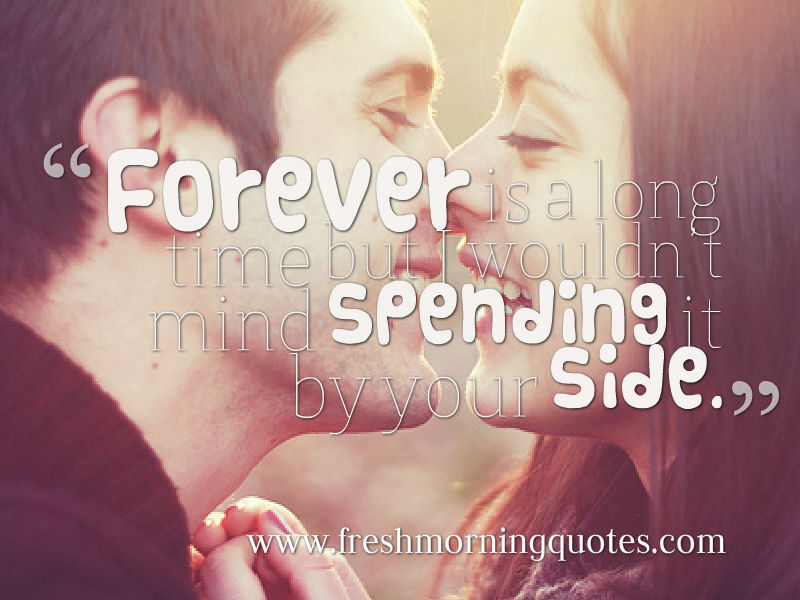 We hope you have enjoyed our romantic love quotes with images collection. if you like them, share with your beloved ones on  your favorite social media site, such as Facebook, Twitter, or Google+
See also :
60+ Heart Touching Romantic Quotes with Images
25 Extremely Romantic Love Quotes You will ever Read